| | |
| --- | --- |
| total : 1516, page : 17 / 102, connect : 0 | |
| | |
| --- | --- |
| Concrete bowers under trees of Celtis sinensis | 2006/03/13 |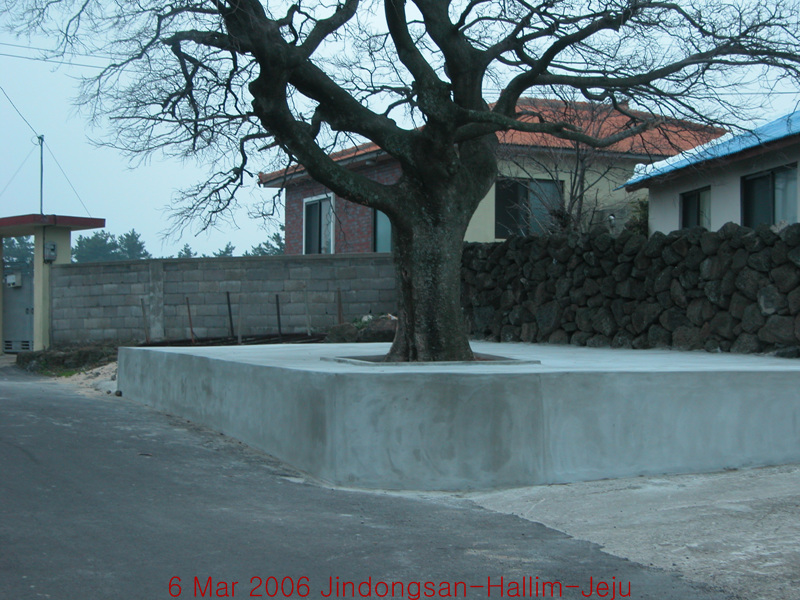 칼퇴근은 좋은 것이라. 심심해서 한 번 써 봤습니다.

Concrete bowers under Trees

2006-03-11 Yong-chang Jang (yongchangjang@hotmail.com)

Celtis sinensis Pers.-There is no common name for this tree as it is not native in Europe or America. The Korean name is "Peng Namu", and name in Jeju dialect is "Pok Nang" or "Pong Nang."

This tree is very common in rural villages in Jeju. It's different from the other parts of the mainland Korea. Although the tree lives in the other parts of Korea, they were not loved as Shade Trees. Here in Jeju in every corner of the folk village you will find this tree functioning as shade tree.

The fruits are very small-about 5mm in diameter. When it's ripen in the autumn, it's' sweat and edible. I enjoyed eating it when I was young. When it's green in summer, I used it as bullets for toy guns which I made of bamboo.

Traditionally, the Pok Nang tree was used for bower. It makes a pleasant shade in summer. Children would play jackstones and various games, adults take a rest for lunch and old people would play chess. It has been so popular that people taking a rest under the tree is described in the songs of shaman.

After the material of concrete and cement was introduced to Jeju, people began using these materials to make a wide bench under this tree. I have beautiful memory of playing games on this concrete bench with my friends.

But the situation changed when the road began widening. When I was young, the side of the road was not paved still. So, although the tree has concrete bench, it had enough water and nourishment absorbed through the parts which were not covered with concrete. But after 1990s, to widen the road, the pavement of the road widened to the edge of the road and the pavement covered all the earth. And the concrete bench has become larger. Now, with the road pavement and concrete bench, the rainwater and nourishment cannot reach the roots of the tree. Many of the tree has already died, and many of them are dying.

I am trying to persuade the people to uncover the concrete bench. But still it is not easy. I will do something more before it's too late.

Hope it helps you to "see" Jeju closer.




본 사이트의 이미지를 협의없이 무단으로 사용할 경우 민,형사상의 책임을 질 수도 있습니다. 저작물의 사용과 관련한 문의는 해당 저작물의 저작권자와 협의하시기 바랍니다.