| | |
| --- | --- |
| total : 1516, page : 16 / 102, connect : 0 | |
| | |
| --- | --- |
| Fujian Niltava found in Marado Island of Jeju, the first record in Korea | 2010/11/27 |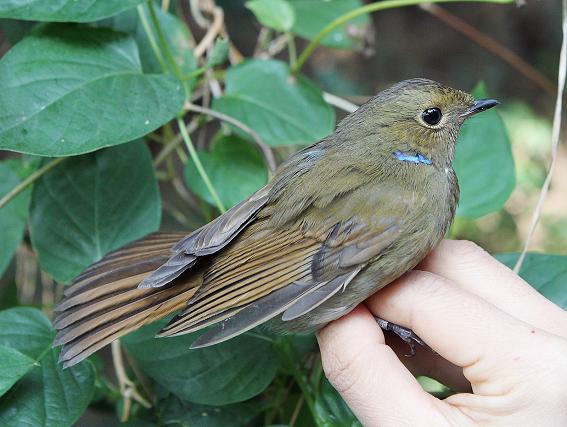 Fujian Niltava found in Marado Island of Jeju, the first record in Korea

November 27, 2010
Yong-chang Jang
Member of Jeju Wildlife Research Center
yongchangjang@hotmail.com
www.birdsinjeju.com


A female Fujian Niltava, Niltava davidi, was found in Marado Island of Jeju Province, South Korea on 13th November, 2010. The bird was found during the research conducted together by Jeju Wildlife Research Center and National Institute of Biological Resources (NIBR).

Fujian is a residential bird species in south China and Northern South-east Asia (Mark Brazil). In this region, it has restricted range in montane Fujian. And it was only accidentally found in northeast to Hebei . Some population migrates to Thailand and Indochina for wintering (John and Karen) . So, it has not been found even in Taiwan or in Japan.

Regarding that they mostly favor dense broadleaf evergreen forest undergrowth (Mark Brazil), it is surprising that it was found in Korea, far away from their region, south China.

The researchers, according to the news released from the NIBR, is guessing that as the wind from south west was very strong, the bird might have been blown to Korea during migration. However, they added, the possibility that their habitat region is moving to North by Climate Change should be studied further.

Photo by NIBR

<References>
Mark Brazil, 2009, Birds of East Asia, Princeton University Press.
John Mackinnon and Karen Phillipps, 2006, A field Guide to the Birds of China, Oxford University Press.




본 사이트의 이미지를 협의없이 무단으로 사용할 경우 민,형사상의 책임을 질 수도 있습니다. 저작물의 사용과 관련한 문의는 해당 저작물의 저작권자와 협의하시기 바랍니다.